Many Meals on Wheels and similar organizations have special relationships with other local community service organizations in their area. Often, these groups help recruit, supply, and organize volunteer workers for the Meals on Wheels operation.
We're happy to announce a new set of "Volunteer Group" features in MOW Scheduler designed to facilitate collaboration with these organizations.
Once an organization has been designated as a Volunteer Group, it becomes possible for the Meals on Wheels volunteer coordinators to "delegate" some scheduling capabilities to the Group. The following features become available: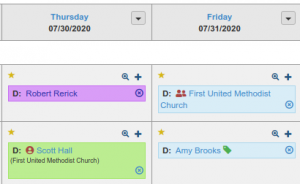 Jobs can be assigned by the Volunteer Coordinator to the Volunteer Group (rather than to an individual volunteer) via a special "Group Placeholder" contact. These assignments are readily identified on schedules by a distinctive icon.
Designated "Group Leaders" within the Volunteer Group are given the ability to reassign shifts from the Group Placeholder to individual group members. In this way, scheduling for the Group assignments is effectively delegated to the Group Leaders, but the Meals on Wheels volunteer coordinators retain visibility and control.
Shifts that have been reassigned within a Volunteer Group are easily identified on schedules by a special Group Assignment icon.
Group members can see the assignment schedule and contact info for other members of their group in the Volunteer Portal, facilitating collaboration within the group.
Group assignments that are canceled by group members are automatically reassigned back to the Group placeholder (with an email notification to the Group placeholder contact) and remain the Group's responsibility, unless the entire Group assignment is canceled by a Group Leader.
To get started with Volunteer Groups, you just need to specify a "main contact" for one of your existing organizations (under Contacts > View All Organizations) and then edit the Organization and turn on the Volunteer Group switch. A new Placeholder contact will automatically be created and the Contacts associated with the organization will automatically become Group members and will see the new Volunteer Group section (with group calendar and member contact list) in their Volunteer Portal accounts. For more info, visit the new Volunteer Groups tutorial on the support site.